Derived from the curriculum of Legitimate Illiteracy is the verse, 'CEO Yourself'.
'CEO Yourself is a giant call-to-action. While 'giant', this particular giant action is one that is very easy to carry out. Yet, we spend ages 'playing the role of pawn in another's dream'. We seem to prefer the incessant rigmarole that this brings instead.
'CEO Yourself' is the basis for the shirt below. May you obtain a copy of this shirt, adorn yourself in it, take up the mantle of 'CEOing yourself' and pass the message across to every passerby in your way, for 'humanity is the brother next to you'.
---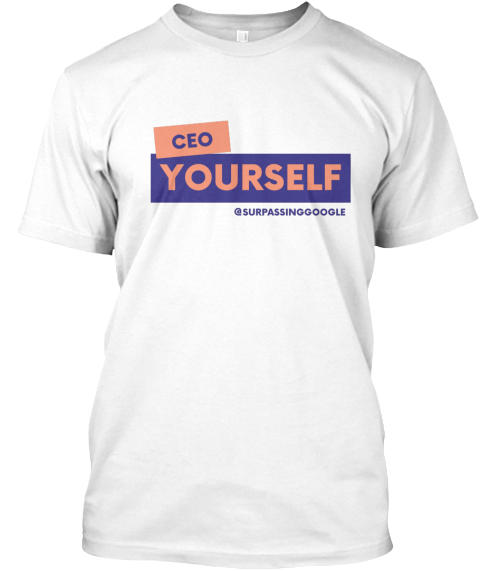 Proceeds from each sale will go towards the setup of a physical hub called 'Macrohard' located in the Philippines, for 'brother programmers'. Read more!
More About 'CEO Yourself'
This a ulog-quote 'CEO Yourself' is derived from the curriculum of 'legitimate illiteracy'.
Legitimate Illiteracy intends to reveal the 'rare intel' contained in the no-books as derived from the down-to-earth spaces of mama earth. This knowledge is tangible to the collective human evolution. 
Many at times, we seek that 'ever-missing piece of our puzzle' in mundane places. By world standards, the standards are 'outer-space', leading to us to relegate value of our most accessible resource, 'your human'.
Where we haven't evolved our human, our own conviction about the value of our human dwindles, this almost directly affects our conviction in the value of fellow human. To evolve our human however, in this 'painted world', you will need to 'CEO yourself'.
Each time, you adorn yourself with the shirt above, why not give this experience more testimonial essence, using it as an avenue to 'CEO yourself'. Create a regimen that you follow. Become an owner, create the stimuli, marvel yourself, exercise your human virtues, explore further use for your senses. Each time in this escapade, spend hours paying attention to yourself, the beauty of creation, the expanse of your mind's eye etc.
Even in the tiniest of details, you can manage to CEO yourself. In the midst of your job, under another "CEO", you can too! Instead of remaining pawn, evolve in your CEOism and influence their CEOism with your beauty.
Your boy Terry
@surpassinggoogle
Let's Discuss This Further
Did you know that we can fix many challenges as soon as today? I am willing to help.
---
UloggersTV intends to render assistance to any human with regards to their 'hassle, aspiration, needs etc' as early as today.
Do well to subscribe to UloggersTV and turn on notifications and whenever you are ready, say 'you have ordeal' or say 'you are seeking the ever-missing piece of your puzzle on any subject or industry, kindly contact me on '[email protected]' and we will work together within the course of one live-stream (dedicated to you), whereupon i will share my insight as a 'legitimate illiterate', share my screen to help you with tangible online resources that can help you further and share the resources that i have, whatever is available. We will find solutions today!