It has been too tough but there is some good news. We have gone past '300 subscribers' on the Ulogs community on Hive. We now have '311 subscribers' on it and i think it is time to celebrate a bit.
The beauty of the Ulogs community is that it is filled with Ulogs and people love to ulog. People love to be uloggers; they feel comfortable within their ulogs and they truly love what the Ulogs community represents or what it can represent.
Even without things like 'a giant Hive-power base' to support uloggers, uloggers have ulogged still.
Another beauty of all this occurrence unknown even to some participants of the Ulogs community, is that 'TEARDROPS', the token that will eventually back the Ulogs community, will look to reward 'past deeds'.
Your act of ulogging today will not be in vain tomorrow.
---
Too, whenever the word 'ulog' becomes inserted into the dictionary at least, uloggers today would have played a role in historical history. On the basis of ulogs, we will then create a new internet, an internet filled with 'humans', one whereupon 'content is queen'.
Uloggers have been creating ulogs without resourcing from the internet, 'mining their human' in the process. 'Mining your human' incessantly, you begin to tap into your shine, emitting into the world more 'lights'. Tunnels can find light therein in turn. Not any longer does any have to wait 'till the end of the tunnel' to find light.
Note: When #ulog started out, within the first 6-months of its inception, we had more than 5000 participants of the tag and the tag produced more than 50K posts and 179K comments. In the midst of this, we completed the model behind the 'Teardrops ecosystem' and began to develop the alpha-stage for 'ulogs.org, steemgigs.org and marlians.com', projects which started out but began to crumble, especially because i began to crumble too drastically in my health. These projects have not crumbled. All their algorithms have been written and are present on their respective GitHub, these projects being open-source.
We also grew a discord community of more than 5,000 members, where i used to talk on constantly for '10-hours straight' at times and where i have not been able to be active on for many months.
In more recent times, with too much illness and very limited productivity (even though i still work 24/7 and have lost the ability to sleep or relax), i had to focus solely on trying to setup a physical hub called Macrohard in the Philippines (a plan that i have passionately pursued for 2-years without success). The existence of this hub, will help me recover in my health.
Recently, i finally rented a 'Macrohard' hub for a few months, even though i have not been able to start it out (three weeks have gone past) due to shortage of funds.
My online efforts since i became too unproductive has been on growing the Ulogs community on Hive gradually and we have derived some success with that so far.
Without much Hive-power, i have focused on re-steeming and tweeting Ulogs from the Ulogs community. I have also voted and used directional-comments to inculcate the underlying paradigms behind the art of ulogging among members of the Ulogs community, gathering and maintaining a solid base of uloggers for our future movement in the nearest term, when i begin to recover in my health.
Most Important Plan.
There has only be one plan in recent times, which is to setup a physical hub in the Philippines called 'Macrohard'. This plan is nearing fruition as i have already rented a hub!
My health has deteriorated so drastically in the past year and for the last two years, my focus began to shift towards 'recovery', even though, i have continued to work hard in building our projects and bringing them to full-blown life.
Now, i have rented a hub but i haven't been able to set it off just yet and 3-weeks have gone past. I am still struggling to get internet in it and i haven't had enough funds to achieve that but soonest, things will adjust.
I am pushing hard this week again and i hoping the within this week still, that the hub can have internet and i can start out in it myself.
Thereafter, when i am able to buy it a split air-conditioner unit, we can announce its opening and begin to have people rendezvous in it. The motion of this Macrohard hub is very much tied at this stage to the restoration of my online ventures because among other things, it will help me in the restoration of my health.
You Can Contribute
The primary crowdfunding campaign has been ongoing for close to a month on Facebook.You can donate here: https://www.facebook.com/donate/313130579712342/
---
---
Another easy way to contribute to our seed-fund now, is by purchasing a '15 USD' T-shirt from our Teespring apparel store.
---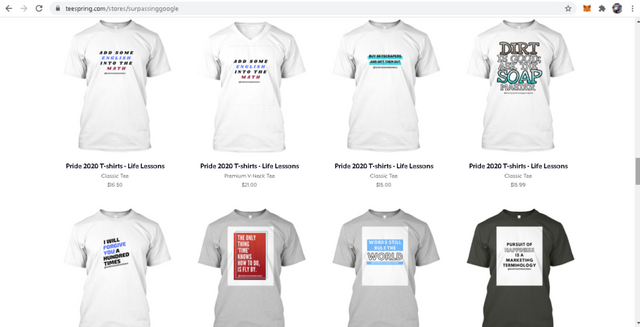 Proceeds from sales, will also go towards the setup of our Macrohard hub.
Here is a value proposition for our contributors!
When Will Marlians Move To Hive?
There has been the intention of moving to Hive until i found out it will cost more than i can afford in these times. I have to wait a bit till i am financially buoyant again and especially, healthy. I am ill and i take care of my dad who is ill.
The above said, the move of marlians.com to Hive can happen really soon. Once, the Macrohard hub starts and i have some confidence in my health-state, i may ask to pay a portion of the amount required by hive-engine and look to pay the rest of it later on, to effect the move ASAP.
While MARLIANS (the token) looks valueless now by virtue of its price, realize that is was modeled as such from the outset, to succeed 'whether bulls or bears because humans are involved'. The primary token being 'TEARDROPS' which will back 'ulogs.org, steemgigs.org and macrohard', will seek to reward 'past deeds', meaning that the intention has existed, that MARLIANS-stakers also get a starting stake in TEARDROPS, when that begins motion.
Ultimately, the MARLIANS digital currency and 'marlians.com' will continue with its own road-map and will be restored to full-blown life starting soon, with the setup of Macrohard and as i begin to gather people in our hub to help me, while i gradually recover my health.
marlians.com will become the center-platform that welcomes 'every(any)one', then directs them to our main projects, introducing users to the art of ulogging.
Ulogs will form the content-base of all our projects.
Stay in touch with updates by subscribing to UloggersTV on YouTube.
Why not support the Ulogs community too. Assuming you automate your votes, you can follow my vote with a measure of your voting-power hereas i curate ulogs from the Ulogs community.
You can also vote manually on Ulogs and encourage uloggers with your comments and resteems, by hanging out on the Ulogs community.
Stay Tuned.
Once the Macrohard hub is in full-blown motion (starting in the coming days), i will be able to gather a solid network of 'true fans', to back our online projects.
Where we build our projects around a solid base of 'true fans', that is powerful. Since i can rendezvous with them physically, i will have more effective impact, in intimating them regarding the paradigms guarding our Teardrops ecosystem.
This is a video of me created from the premise of Macrohard, talking about the Macrohard hub in relation to my projects:
---
Your Boy Terry
@surpassinggoogle