Binance is the best exchange i have used till date. I have not used that many exchanges overall but i have used Binance to quite an extent to say it is the best. How so?
Innovation-wise, Binance is always in motion and according to me, it is bigger things than an exchange. I am currently writing my first 'cryptocurrency-related book', to be dedicated to both my parents who have died and especially to my father who died recently and in an entire glossary dedicated to 'introductory cryptocurrency resources',Binancewill be featured not just as an exchange but as an entire 'learning resource'.
Each month, via the 'Macrohard hub' (located in the Philippines), we will release one cryptocurrency-related book and one such book will be dedicated to 'Binance' because beyond it being an exchange, it is an entire case-study.
This post already sets into motion, the emanation of that book. The book will be written in the context of 'legitimate illiteracy'.
It is very obvious that among other things, Binance aims to be revolutionary, empowering the nations. Yes, Binance is an entire school of study and perhaps 'one of the easiest entry-points into the world of cryptocurrency'.
These days, to start someone off into the world of cryptocurrency, i would intimate them of the 'Brave browser', a cryptocurrency-enabled browser similar to Chrome, that allows them to earn a cryptocurrency called 'BAT' (Basic Attention Token). Alas, on this particular browser, there is an entire widget dedicated to 'Binance', that allows you to swap among 'cryptocurrencies' or purchase 'cryptocurrencies' with a credit/debit card.
See image: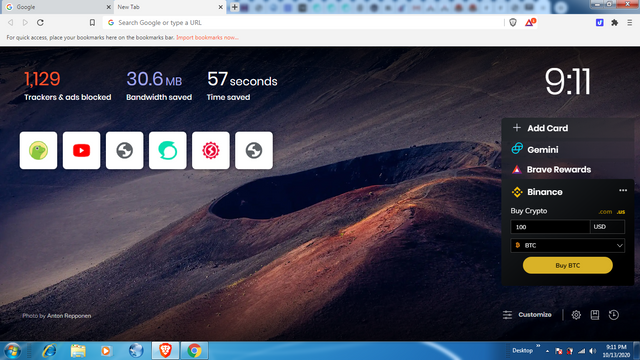 There are many such avenues, internet-wide, introducing you to Binance.Once recently, after recommending 'Binance' to someone, as an exchange where he could buy his 'first cryptocurrency' without KYC, considering that he was currently un-banked and he didn't have the luxury of a credit card; i thereafter intimated him of the need for a decentralized 'cryptocurrency' wallet and suggested that he download 'Trust Wallet'. Alas, Trust Wallet is a decentralized 'cryptocurrency' wallet administered by Binance.
If you didn't already know, Binance offers a P2P feature covering some 58 countries, allowing 'the un-banked' to trade 'cryptocurrency' using remittance payment-options like Western Union, Paypal etc.
So far, i have participated in 3 'learn to earn' campaigns administered by 'coinmarketcap.com' (a 'cryptocurrency-ranking catalog'), inviting you to learn about different 'cryptocurrencies' in exchange for 'cryptocurrency-earnings'. I have earned cryptocurrencies such as '$BAND, $KAVA etc' in the process and i have invited several crypto-novices to participate too, with success. Alas, this learn-to-earn 'cryptocurrency' events are administered by Binance through 'coinmarketcap.com'; which is Binance-owned!
Infact, Binance has an entire academy dedicated to intimating people in-depthly about 'cryptocurrencies/blockchain'. It also dedicates a fund to reward 'educators who teach 'cryptocurrency'.
See image: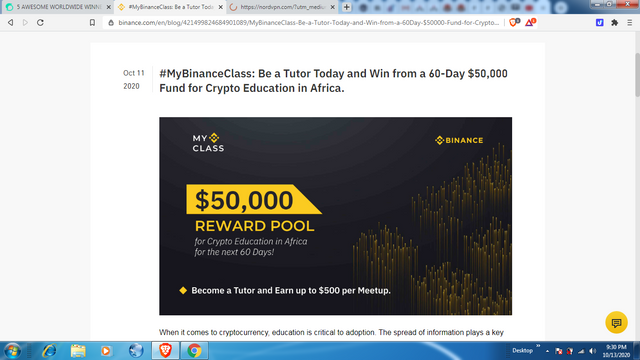 While Binance is well-optimized for every 'financial service' as we will soon see, perhaps moreso than every other existing exchange, it has cared to cater to its users and their levels of expertise by proactively providing them education on each Binance-feature and the niche of cryptocurrency at large.
Even passively using Binance, i have learned a lot about 'cryptocurrency' and what is obtainable in it; each age of it. For instance, recently i have learned alot about the range of services covered by the niche of 'DEFI', a current 'cryptocurrency-trend'. I have learned about the Binance Smart Chain and how it can interoperate with other blockchain(s) e.g Ethereum. I have learned of other avenues to mine liquidity-rewards other than Uniswap. I have learned of Binance's Launchpad that has helped startups incubate and finance their 'cryptocurrency projects'. I have learned about Binance's LaunchPool, that gives token-creators a gateway to have their tokens-listed on Binance and a seamless avenue for users to mine liquidity-rewards for these tokens before their impending Binance-listing.
See images: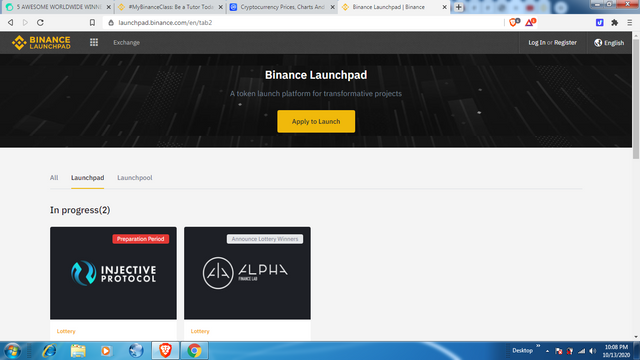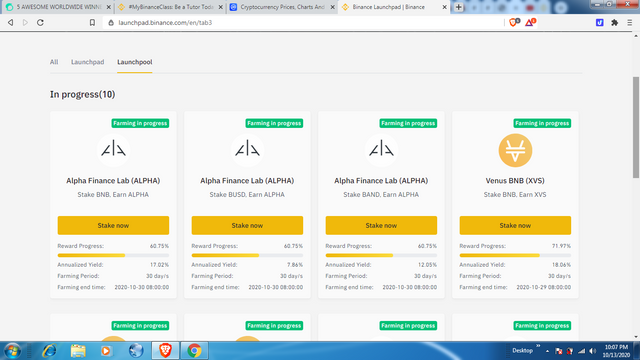 Now, if you seek 'DEX' (Decentralized Exchange) options, Binance has a DEX too. The Binance Decentralized Exchange is a well optimized DEX, making use of the Binance Blockchain created by Binance, complimenting what Binance offers in the form of the earlier mentioned 'Trust Wallet', a mobile DEX focused on 'atomic swaps'.
This is how the Binance DEX looks like: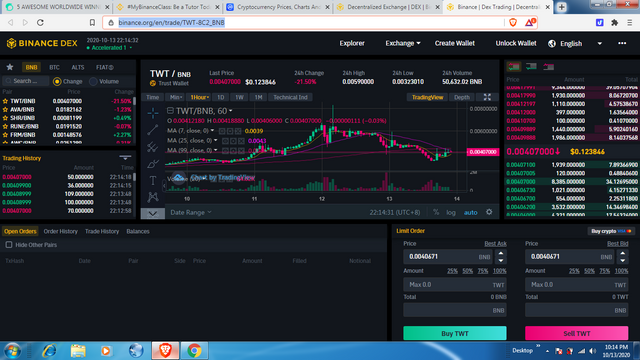 Speaking of the niche of 'financial services', Binance has a create a hybrid of features, considering those who aren't crypto-savvy, by offering these ones, options that they are familiar with, such as 'Flexible Savings', stock indicators etc.
See image: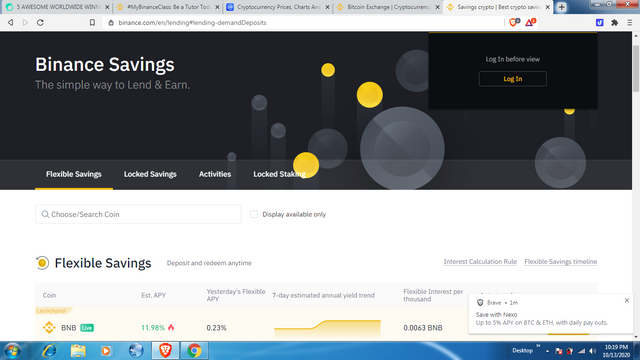 I have recently started learning about Derivatives, a feature that Binance offers and what is my go-to resource? https://academy.binance.com/
Well, i have kept seeing this layer or feature of Binance passively and almost daily too, on my Facebook feed, where one Facebook-friend keeps recounting his success trading 'Binance Options'.
You have never come to grasp how to use the 'stop-limit order' advanced-feature available on many exchanges? Binance has an entire resource in their academy explaining it.
See video:
Binance supports charity too. It administers charity campaign(s) via its platform and actively too, having dedicated an entire segment to it as seen below: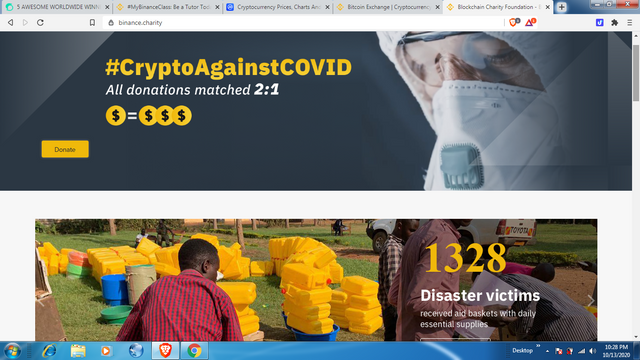 To conclude, i did this coverage pertaining to Binance because among other things, it is important to highlight that many times and overall, 'blockchain/cryptocurrencies' have been under-explored and under-used. It is no coincidence that 'cryptocurrency/blockchain' struggles to scale.
The next time we interact with each 'cryptocurrency/blockchain' interface, let's explore it in more unconventional ways. This way we will highlight further the beauty of these amazing tools and 'blockchain/cryptocurrency' will find its unique world-adjusting use-case.
We have these luxury-tools now. However, these tools only become truly revolutionary based on how we used them or interact with them.
Binance is an entire resource to start with. Just on 'binance.com' alone, you can gain insight into the true state of the world, even in terms of establishing the evolution of innovation across the crypto-sphere. Yes, right there on Binance!
Let's expand the horizon of 'ROI' overall, which is what 'exchanges' in general are becoming popular for and extend the scope of 'ROI' to things like 'learning' too (as Binance exemplifies), where 'learning is the ultimate earning'.
To conclude, did you know that 'coinmarketcap.com' has enlisted more than '7000 cryptocurrencies' and perhaps that many blockchain(s). Have you explored these cryptocurrencies? How much of 'coinmarketcap.com', have you currently used?
For instance, did you know that coinmarketcap.com has a feature called 'Learn to Earn' or that it has a 'DEFI' layer that allows you to earn interest on your idle cryptocurrency?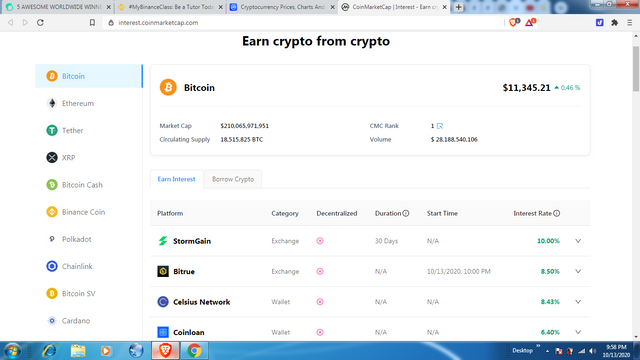 Did you know that 'coinmarketcap' has a 'chat feature' that allows you reach a wide range of cryptocurrency-enthusiasts?
Did you know that Binance offers the popular 'DEFI' instant loans'feature?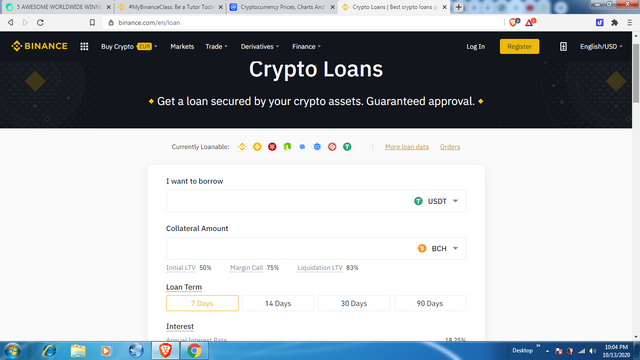 ---
Your boy Terry
@surpassinggoogle
---
Kindly consider purchasing a 15$ T-shirt from our store here: https://teespring.com/stores/surpassinggoogle
Each T-shirt carries an inscription derived from our curriculum of 'legitimate illiteracy'.
Proceeds from these sales will go towards the evolution and sustenance of our 'Macrohard hub' located in the Philippines.